Beratung durch Erfahrungs- und Orthomolekularexperten
Seit Jahr 2005 für Sie da
Mengenrabatt von bis zu 15% in Ihrem Warenkorb
Hochdosiert und Hochqualitativ
Bariatric Fusion
Bariatric Fusion from the USA is our new partner!
Bariatric Fusion: developed by doctors & tested by patients
This company was founded by a bariatric professional; it's products have been developed by a team of doctors and their effectiveness has been demonstrated with scientific studies.
Do you want to read more about the product line, food supplement facts, studies and FAQ?
Please download our PDF
Would you like to learn more about the revolutionairy All Inclusive Multivitamin? Please read on down below.

Patient compliance is number one
Bariatric Fusion is based on scientific studies and a high and easy patient compliance was the idea behind this product line.
We ate WLS value a high patient compliance utmost after bariatrc surgery, to keep our customers healhty long term.
We are happy that we have found a partner to work side by side on our common goals: to offer products, that make the lives of bariatric patients easier and better!
Tasty Soft Chews & other products
Bariatric Fusion offers Soft Chews with a pleasant texture and a great taste. The Soft Chews are available as multivitamin, as calciumcitrate, as iron and…. as probiotic!
Furthermore, Bariatric Fusion offers multivitamins as capsules. Their Hair, Skin & Nails capsules help you to maintain strong hair, skin and nails with only 1 capsule daily.

New and unique: an all inclusive chewable multivitamin!
Thes Complete Chewable Multivitamin is a chewable which contains everything that you need after bariatric surgery! Vitamins are combined with iron and calcium, so that no other supplements are necesary!
With only  2 x 2 chewables daily, it has become quite easy to take care of yourself.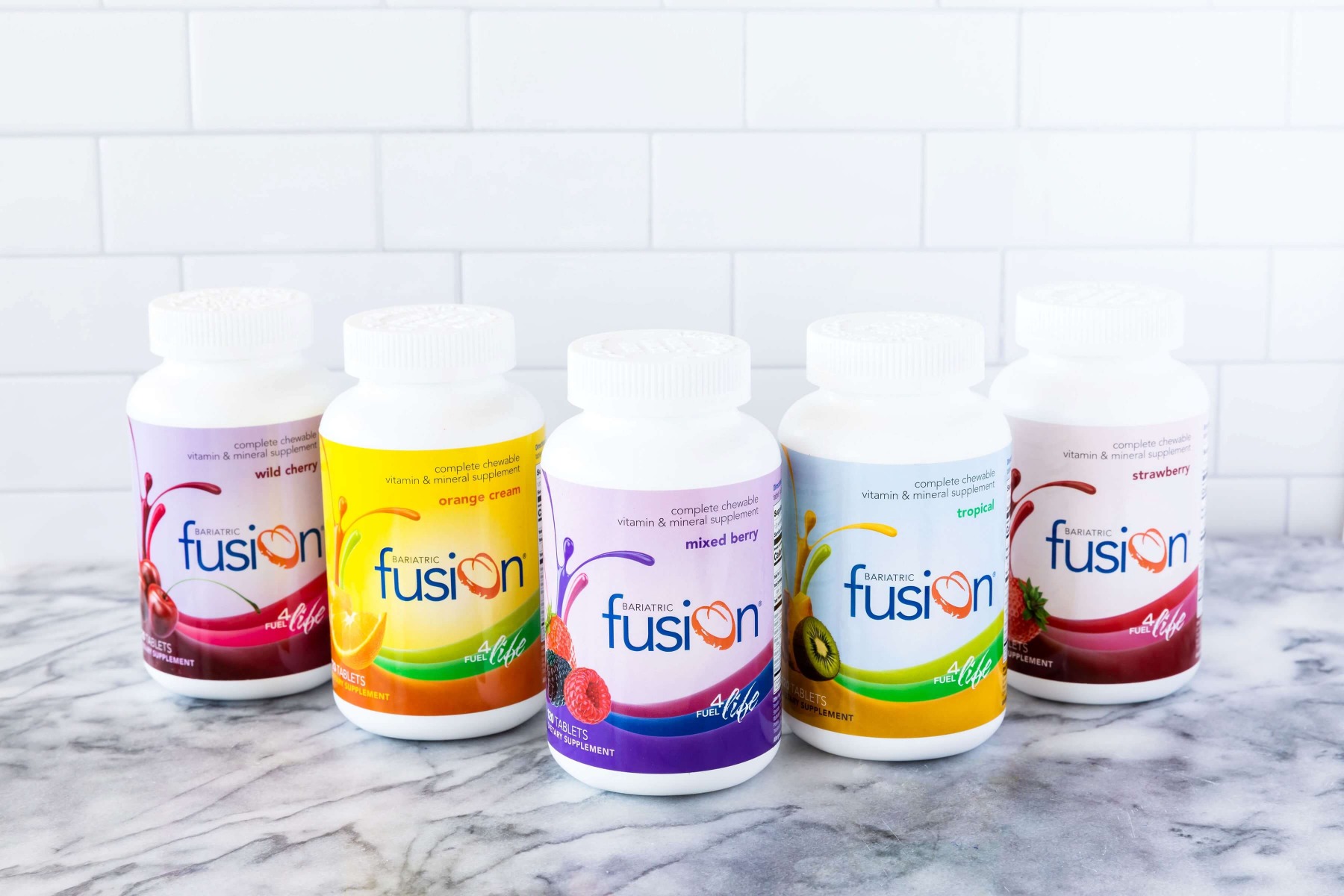 Why use an "all inclusive" chewable supplement?
Compliance with any multivitamin supplement regimen can be difficult. Nutritional deficiency, as a result of gastric bypass surgery, is an eventuality without any form of supplementation and even with compliance of a standard multivitamin supplement. An "all inclusive" supplement like Bariatric Fusion®, improves compliance by decreasing the number of tablets patients need to take to help prevent the risk of developing these deficiencies from the start.
The nature of a chewable supplement makes the vitamins and minerals more available for absorption, since the micronutrients begin to be broken down before they reach absorption sites.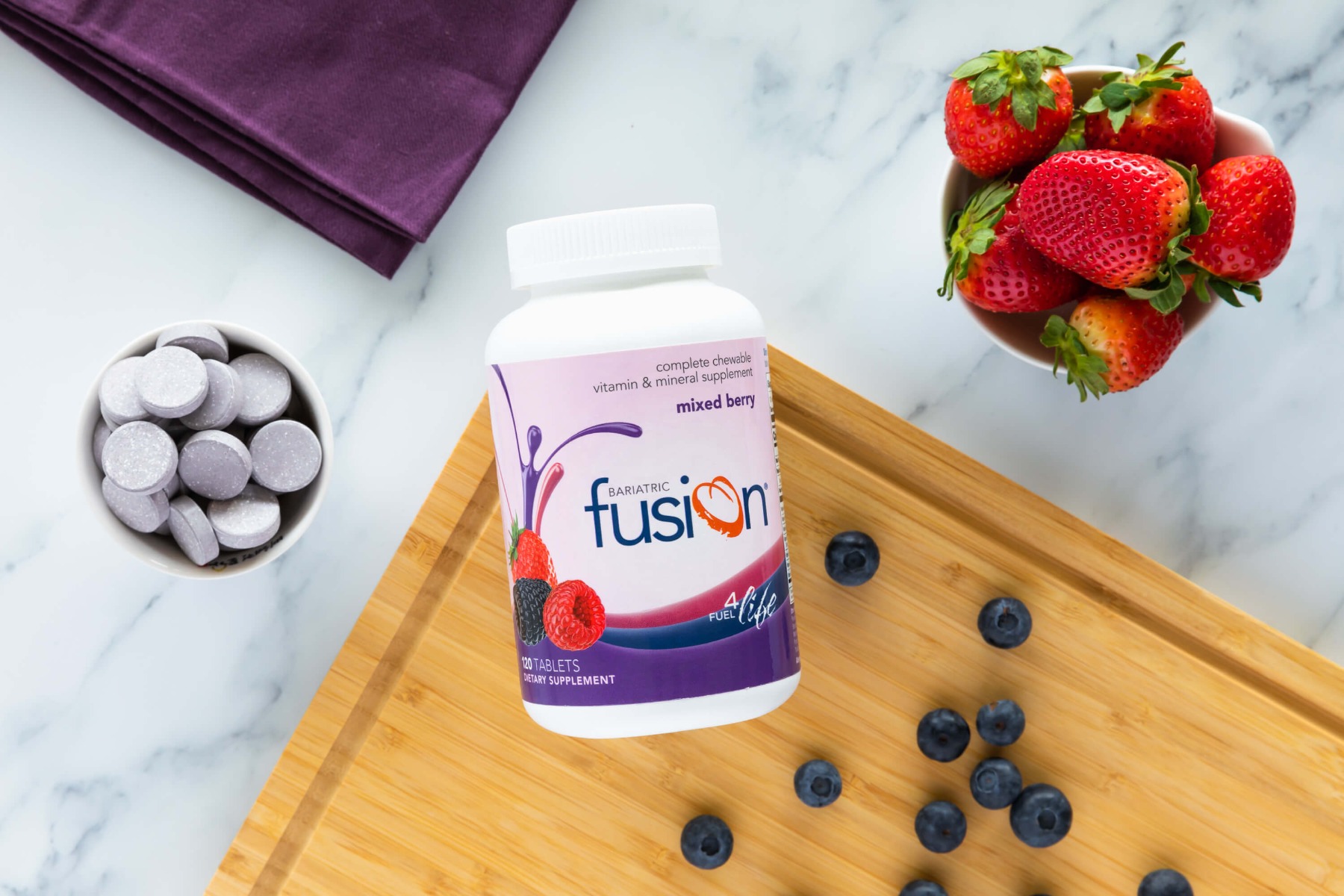 Are iron and calcium absorbed when combined together in the same tablet?
Iron aids in the body's ability to manufacture enough red blood cells to transport oxygen to all areas of the body. A deficiency in iron results in anemia. Calcium can inhibit the absorption of iron in the body. We know that certain factors can affect iron absorption when calcium is present, either as food or in supplements. These factors are the:
Form of iron – Bariatric Fusion® uses ferrous fumarate, which is readily available for absorption and less constipating than other types of iron.
Form of the food or supplement – Bariatric Fusion® offers a chewable supplement, ensures all the vitamins and minerals contained are in one of the most available forms for adequate absorption. Because the levels are lower in a multivitamin, iron may not be inhibited by calcium.
A dose dependent effect of calcium on iron absorption. Doses of iron greater than 30 mg will have an adverse effect on the absorption of calcium and/or iron. Bariatric Fusion Complete Vitamin and Mineral Supplement has 11.25mg of iron in each chewable tablet. (Dosing 2 tablets per serving is still well under the 30mg threshold).
PLUS: Bariatric Fusion® has included Vitamin C (ascorbic acid) which aids in iron absorption and Vitamin D to promote calcium absorption.
Read more
Read less